Julian and Anita Dakowski
Julian Dakowski - Artist
Julian has been working in Art and Design since his formative Art School days at Wimbledon in the '60's, where he exhibited innovative work at both the ICA and Design Centre.
From early on he embraced design work in plastics, ceramics, glass, metals and graphics with a 'hands on' approach to both method and process. Interior design commissions evolved into a career working as commercial and domestic lighting designer and architect.
Now in full circle he returns to the Applied Arts where he secured patents for processes which create photographic images in diverse media based on the control of translucency over reflective substrates. He now works developing this multi-media graphic extension and has proved the process in food, soap, wood, enamel, plastic and not least ceramics.
In the forth coming Recessionist exhibition, three are to be examined.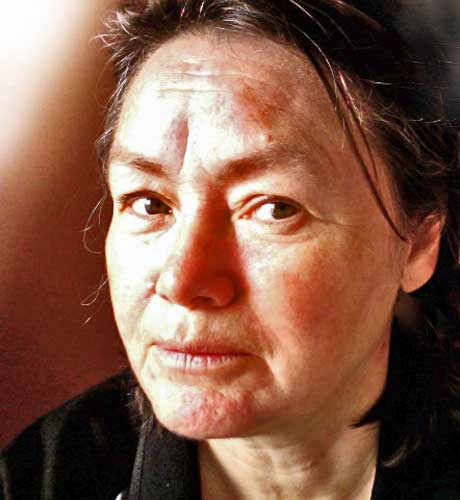 Anita Dakowski - Enameller
Anita approached enamelling only in recent years in response to exploring alternative avenues through which further applications for the process could be developed. Tutored by the second generation enameller Phil Barnes she has proved the process by creating the world's first translucent enamelled photographs in silver.
In taking interest in the art and execution of enamels on both copper and silver, she has gone on to produce work in her own right. Her enamels on copper reflect natural textures, forms and scenes and are often mounted in solid wood settings carved by her husband.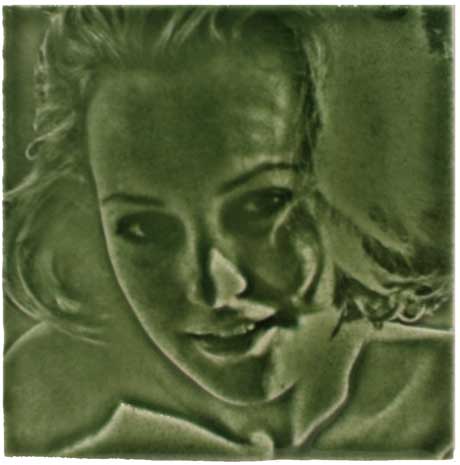 Tucked Up Girl
Ceramic Photo Sculpture
15x15cm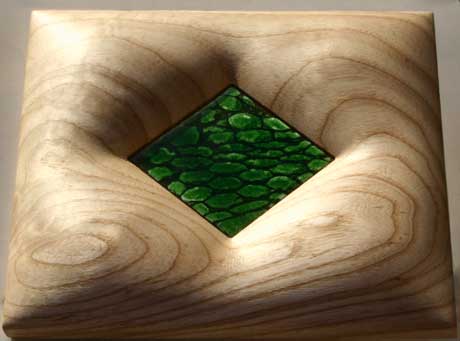 Ash Cushioned Brook
Translucent enamelled copper contoured into ash grain
15x15cm